So apparently I'm one of those arrogant jerks who thinks everything is negotiable.
Year-long rental contracts. (Who stays anywhere for a year?)
Baking cookies for the PTA. (Kidding, I would never agree to that.)
Relationships. (It IS you, sweetheart.)
That is, until one fateful spring, three years ago, when I finally met my match.
Polished and demure on the outside, she was as tough and leathery as they get on the inside. And to top it off? She was German.
She liked to push my buttons just as much as I liked to push hers, and every time she'd get turned on, she wouldn't just purr—bitch would roar. She and I were ride or die.  …Until one day, well, I was done riding. (But not dying. There's no preventing that.)
It was time to move on.  Finished. Finito. Or as the sophisticated elite might say, "Done-zo."
But she didn't understand. And unfortunately, neither did Jeff.
You see, Jeff was her pimp. I knew about the arrangement from the beginning, but like everything else in life, I assumed this, too, would be negotiable.
So you can imagine my surprise when Jeff sat me down and told me the very thing I didn't want to hear:
You can't terminate the car lease early. Well, you caaaaaan, but only if you give us, mmhmmm *nonchalantly punches numbers in calculator, one hand behind head, legs up on desk* — $8,000.
It wasn't the $8,000 as much as it was the principle. The German had already been in storage for two whole years as it were, untouched, undriven, with less miles than (most) teenage virgins.
So somewhere in between telling him he should be ashamed of himself, and firing off a hateful tweet on Twitter, I woefully returned The German back to her storage unit, where she'd remain for one more full year as I'd travel the globe, paying her monthly payments, wishing cars were collapsable gadgets you should disassemble Johnny 5 style, throw into a ziplock baggie, and put in your carry on. (I mean, it could even go in the same plastic container as your laptop through security.)
It was then that I remembered I should do the proper thing that normal people do: Disconnect the battery.
Yet, as I rolled up my sweater sleeves and went to accomplish this here battery removal task, I quickly discovered I was in for a treat: The battery removal task was going to require one of those…wrench items. And it struck me as hilarious because, while I like to consider myself a fairly educated person, somehow, SOMEHOW, the fact that a car battery doesn't just hook up as easily as a USB cable slicked right by my brain. And just so we're all on the same page here, folks of the internet, THAT IS NOT THE CASE.
That must be what hell is like. No fucking USBs.
Anyway, so I naturally did the next best thing: Took it as a personal challenge to unscrew the lug nuts (lug nuts?) using a pair of nose hair scissors.
Now this was a disappointment I was  ready for.
While I knew that nose hair scissors would probably harm me more than help me by way of accidentally palm piercing, I'm also a stubborn ox and enjoy going by the motto of, "At least I tried."
As you may have guessed, "At least I tried" is as far as I got. (And yes, of course I tried my fingers.)
To this day, The German sits there, battery connected. What can I say? I was on my way to the airport. It was a choice between: Buy a new battery later, or miss my flight now.
But I'm pretty sure the moral of this story is two-fold:
Lug nuts ruin lives.
When you've got the right tools, life is easy. When you don't? You end up pissed off, frustrated, confused, stressy, and blogging about car dealerships with grease on your dress.
With that, I present: The Official TMFproject 2014 Collection of the Coolest, Newest, Most Useful Tools On The Internet to Run Your Business.
Because let's face it: If negotiating with car dealerships is tough, just wait until you try it with clients.
A Curated List of THE coolest, newest, most handy tools, apps and software from around the web.
A Curated List of THE coolest, newest, most handy tools, apps and software from around the web.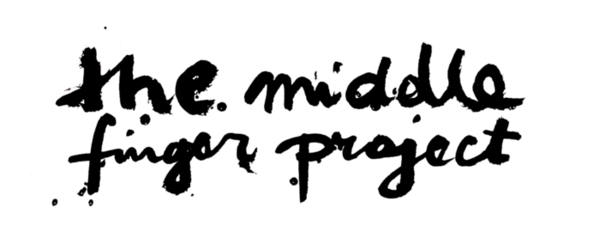 Because the right technology helps you ante-up, make money, save your sanity and pull it off like a real PRO.
1

I LOVE this service.

They provide modern, online cash advances to small businesses to buy inventory, build a website, or grow in any other way - they'll give you a cash advance based on your online credentials like your Paypal history, or your social media accounts.

My team and I were skeptical, so we tried it out and took an advance before turning around and giving it back to test the process, and guess what? Everything was seamless, easy, and most of all, legit.

High five to Kabbage for this!

2

Want to publish an eBook - but have ABSOLUTELY NO IDEA how to format it, and make it look professional (and do all that ePub stuff?)...and don't have the budget to hire a designer, either? YOUR ANSWER HAS ARRIVED. It's like Christmas, right?

3

Visual Collaboration for Creative People. Love this! Let's you drag and drop images from around the web, add post-it notes, and make gorgeous online visual boards so you can get organized, and spark ideas. Invite people to collaborate, too! VERY cool.

4

This is going to sound crazy, but did you know that ambient noise, like the noise from a coffee shop, has been shown to increase your creativity?

5

So THIS is an interesting concept. If you work virtually with other people on your team around the world in different places, it sometimes can get lonely. And sometimes, you feel disconnected. Squiggle gives real-time photo snapshots of the people on your team, in intervals, so you can always see their face and instantly IM them for anything you need. :)

6

Make a gorgeous digital magazine (free!) without any tech knowledge. I LOVE THIS. Add images, photos, videos, animations and audio. Customize and publish for desktop and mobile devices.

7

This took shows me exactly where I'm spending my time online - and while I didn't want to know at first? The biggest benefit has been in realizing when I really need to slow down - and deserve a break! :)

8

They say that 80% of people who have to wait more than 3 seconds for a website to load...won't. We'd hate to lose visitors & community members - right now we're in the process of switching over to WP Engine to host our websites because they're the speediest in the industry - AND they've got the best security. Because getting your site hacked would suck. Highly recommended.

9

I love Clickmeter because it lets me see exactly how many people are clicking, say, a product link in our product shop, versus the same product link in our blog posts, versus the same product link somewhere else---so I can see where our sales are really coming from. It can also track your conversions, too, and tell you not just how many clicks, but how many dollars were generated from those clicks. :) Isn't this fun?

10

Imagine a video that politely asked viewers to enter their email address to view it (and thus building your list), or one where you could insert clickable calls to action wherever you please to buy something you made. And then imagine if that video told you exactly what people did when they watched the video---and where they stopped watching, so you could determine where your message is falling flat. That's Wistia, and it's a new TMF favorite. Note: One of my favorite features is that you can submit your video to be closed captioned, and Wistia handles it for you (for a fee) - which helps you make your videos as accessible as possible - something I think should be important to everyone.

11

When you need to look like a pro but have no idea how to make a graphic to save your life.

Graphic River is great when you need an editable template for a banner or a badge or even a logo, and you've got some time to play! You'll be AMAZED.

12

I use this to make all my different lists and stay on top of things! It's so user friendly, and actually makes list making FUN. You can also assign different lists & tasks to staff, if you need to, but I just use it for me, myself and I. LISTS, baby. Get on that.

13

My favorite thing here? SCROLL MAPS. What Crazy Egg can tell you is where people are scrolling to on your website - and then stopping. Xing out. And going away. And what does that mean? It means now you know exactly where you need to tweak your web copy, because apparently right in there? You're losing people. Causing eye glaze. And they're abandoning. Crazy Egg is like the CIA of websites - and they make YOU a top secret agent.

14

If you've got people working for you, then you know that sometimes it can be challenging to coordinate schedules, find other available staff when someone calls out sick, record their timesheets, and even do payroll. Deputy is pretty darn cool because it handles EVERYTHING in one easy place where both you and your staff can log in, so shit stays organized.

15

You really wish you could cut yourself, or objects, out of photos, and have no background, but you suck at Photoshop. VOILA - this is seriously a crazy easy tool. Just found it recently and it's great for a quick cut out!

16

So, you know how sometimes you need people to fill out a form but it's a pain in the ass to make a form, or embed the form, or style the form? Gravity fixes that. It's a Wordpress plugin that lets you easily put forms anywhere you want on your site - and even cooler? You can set up something called "conditional logic," which means the form will populate itself based on what a person selects. That way, you're never making clients fill out things that aren't relevant to them - or confusing new subscribers. :)

17

I'm pretty sure 1Password is the only reason I've been successful online. You think I could remember all of the passwords and log-ins myself? No way. I don't even know what color pants I had on this morning. 1Password gives you a great little button in your browser you click on any time you want it to recall & enter your log-in information on any site - and you can also use it to create iron clad passwords for you, and then auto fill them & remember. Maybe one of my favorite tools on EARTH. This is a must-have. Hands down.

◆ Mac App Store Best of 2013 and Macworld 2013 Editors' Choice Award! ◆

18

FINALLY! A button in your toolbar that takes a screenshot of THE WHOLE WEBSITE - and not just what's visible on your screen. I've been waiting for a simple, pretty tool like this for a while. So handy!

19

Want to start a subscription service, where you mail out your hand-crafted items or products to people every month? (Like a beer of the month club, for example!) Cratejoy makes it SO simple. This makes me wish I had a physical product to sell!

20

You know those cool posters you see all over Pinterest that look like they've been professionally designed? With recite, you just enter in any text, pick one of their many templates, and voila - picture-perfect sharable poster in minutes.

21

Fetch is awesome for DELIVERING online products, videos, courses, books & files you sell. You can link it right up with a payment processor, and they'll take care of the rest. (Including making sure no one can pass around your stuff for free.)

22

It takes only 1/10th of a second to form a first impression about a person, only 0.05 seconds for a person to form an opinion about your website that'll determine whether they like your site or not, whether they'll stay or leave.

In other words, what your site looks like MATTERS. But most young businesses don't have a lot of money to spend on designers yet, either. Enter: Brandgasm 101. Your hack to looking pro - without hiring one. (Co-created by myself, Ash Ambirge, and powerhouse design team over at Shatterboxx, who've most recently re-designed the Bed, Bath & Beyond blog.)

23

Love this guy because it's a classy, discreet way to ask people to sign up for your email list without putting an obnoxious pop-up in their face. You can tell Opt-in Monster to slide in a nice little banner along the bottom of the website with some custom text based on which page they're on at the time, how long they've been on the site, how many pages they've clicked on, and more. It's great if you're serious about growing your list without being an asshole.

24

Find words that start with, end with, or contain the letters, prefix or phrase. REALLY useful when you need to add some alliteration to your writing, but can't think of the perfect word. :)

25

Selling your gorgeous creations through Etsy, or your own blog? Uplevel your company image with Bags & Bows custom packaging, boxes, labels, gift wrap paper and more. You aren't just some generic company. And you shouldn't look like one.